£ GBP
We accept PayPal and Amazon Payments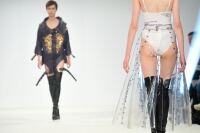 Students get first taste of world of fashion
02nd June 2015
The great and good from the world of fashion have been gathering in London for a prestigious event ...
View More News
Got a question? Get instant answers:

Chances are, you already wear men's Nike socks. Sportsmen in Nike men's socks can be seen in all walks of sports, from football to athletics. But if you don't wear Nike socks, here are a few good reasons. A man in Nike socks gets their superb anatomic fit, their technical yarns, such as Dri-FIT, padded stress zones and, Nike socks for men also have that great sports styling. Who doesn't want to be seen in that Nike swoosh?