£ GBP
We accept PayPal and Amazon Payments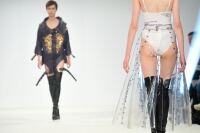 Students get first taste of world of fashion
02nd June 2015
The great and good from the world of fashion have been gathering in London for a prestigious event ...
View More News
Got a question? Get instant answers:

Completely loud and incredibly stylish, this fantastic range of fashionable Oroblu socks are for trendy legs only! Italian designed, this collection of ladies' socks includes a number of fabulous colours, designs, textures and patterns. Not only will they look gorgeous, but as they have been made to a high quality, these socks will also feel wonderful.
1 results in Oroblu Socks
2 Colours Available
WAS £12.99
NOW £9.74
100%

Likes