£ GBP
We accept PayPal and Amazon Payments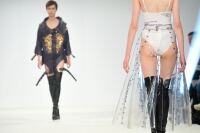 Students get first taste of world of fashion
02nd June 2015
The great and good from the world of fashion have been gathering in London for a prestigious event ...
View More News
Got a question? Get instant answers:

Leggings are tights without feet, sometimes referred to as "footless tights". With a long rich heritage, Pretty Polly started all the way back in 1919, proving they know a thing or two about all things tights! Pretty Polly are one of the country's biggest British hosiery brands and this collection of Pretty Polly leggings shows you why - take a look here and see for yourself!