£ GBP
We accept PayPal and Amazon Payments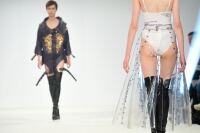 Students get first taste of world of fashion
02nd June 2015
The great and good from the world of fashion have been gathering in London for a prestigious event ...
View More News
Got a question? Get instant answers:

Pretty Polly Nylons combine the best of vintage nylon stocking styling with the extra benefits that an up-to-the-minute name like Pretty Polly can bring. These include an improved fit, thanks to the addition of Lycra, better manufacturing technology and advances such as secret slimmer panels in the tights. Some Pretty Polly Nylons have perfect retro-look backseams and Cuban heels, while other nylons from Pretty Polly have decadent lace stocking tops and rich sheen finishes.