£ GBP
We accept PayPal and Amazon Payments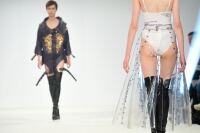 Students get first taste of world of fashion
02nd June 2015
The great and good from the world of fashion have been gathering in London for a prestigious event ...
View More News
Got a question? Get instant answers:

A truly luxurious brand, Pringle of Scotland began to emerge in 2000 with a renewed vision and passion. The vision was to restore the luxury fashion heritage in Pringle of Scotland's rich past, and this collection of ladies' socks certainly does this. Beautiful cashmere has been used to create this range of gorgeous ladies' ankle socks. Browse our collection here.