Richard James offers the very best of British tailoring and menswear, and each style in this stunning collection of men's socks has been made in England. All the way from the famous Savile Row, our vibrantly designed Richard James socks, in a variety of colours and patterns, are the perfect compliment to your suits and formal wear.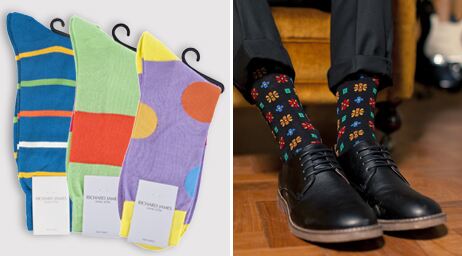 Luxury need not be synonymous with companies founded a century or more ago. Since 1992 Richard James has quickly established a reputation for itself as a leading luxury brand that has set the standard for contemporary tailoring and menswear.
The first of the 'New Establishment' tailors on Savile Row, Richard James is proud to have contributed to revitalizing what has long been acknowledged as the world centre for tailoring with its bold, progressive take on the timeless and traditional.
Richard James remains a quintessentially British luxury company but now, with its online service and stockists worldwide operating in tandem with its stand alone shops on Savile Row and in Tokyo, it is one with a distinctly international outlook.