When your heels are too high or your stilettos too sore, just slip on a pair of Rollasoles for instant foot relief. Each pair of these roll up flats comes with its own little bag for bringing home your heels, so you can walk or drive in comfort. Just pop a pair in your car, your clutch or your closet, and save your soles!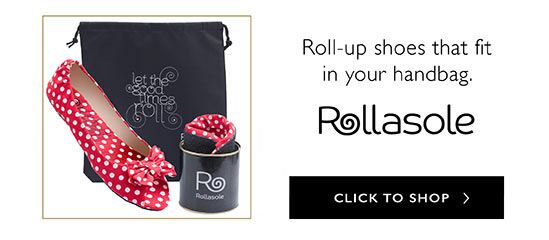 The idea behind Rollasole sprang to mind in 2008 when Matt Horan decided there had to be a better way for his girlfriend to return home after a fun night out than the obligatory piggy back. From that moment on, Matt poured his efforts into developing and patenting these unique Rollasole shoes. Soon after, the first Rollasole vending machine appeared in Matt's home town of Bristol.
Since then, things have simply snowballed. You can now find Rollasole shoes in a number of high street retailers in the UK, America and Australia – as well as caressing the tanned and toned feet of the stars at the Golden Globes for the last three year.

Rollasole: Because beautiful feet deserve a happy ending.