This range from Sealskinz includes 100% waterproof socks that are guaranteed to be 100% waterproof - the world's only range of waterproof, breathable, close-fitting socks hand built in Britain. Each product is individually tested to ensure it's 100% waterproof. The collection also features SealSkinz waterproof hats and gloves.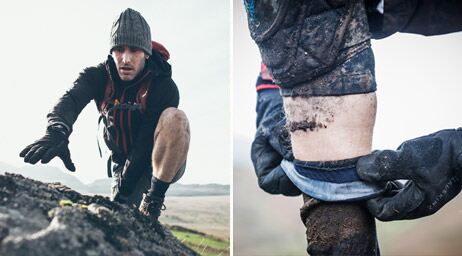 Sealskinz® has over thirty years' experience in developing and manufacturing endurance accessories, having worked in partnership with some of the world's greatest athletes including mountaineers, explorers, cyclists, skiers, runners, sailors, & horse riders to ensure Sealskinz® products deliver the very best in comfort and performance, to enable you (and all the other Sealskinz® wearers) to defy the great outdoors.


While carrying out a research project on original breathable waterproof technologies, the brand's leading technologist came across details from one of the world's most innovative pioneers, John Logie Baird, the inventor of television.
John Logie Baird suffered from very poor circulation resulting in his extremities getting incredibly cold in the winter months. This limited his time spent in the outdoors to the warmer months. Being a Scotsman, John Logie Baird's time in the beautiful Scottish highlands was severely restricted. Baird was soon at work developing a two layered sock, the outer and inner of which were made from cotton, with the inner being impregnated with borax which ensured moisture generated from the foot was quickly wicked away, keeping the feet warm, dry and comfortable.
Because of Sealskinz® leading technologies and manufacturing processes, they were able to take John Logie Baird's basic concept and develop it into what it is today, cutting edge products providing the user with the very best comfort and performance with a very long life expectancy.
SealSkinz products feature a number of advanced technical features, including:
Aqua Dynamic Design: Stretchdry - This patented technology has a hydrophilic membrane (which blocks water getting through but allows smaller sweat droplets to pass through making it waterproof yet breathable) which also has the ability to stretch.
Aqua Dynamic Design: Waterproof - 100% waterproof protection yet incredibly breathable and dexterous.
Anti-slip lining - Improves dexterity and feel through reduced friction.
Touch-screen friendly - A number of Sealskinz® gloves feature touch-screen friendly tabs on the index fingers and thumbs so you can access your smart device without having to remove your gloves.
Sub-zero - Some Sealskinz® products feature Thermal ratings 4 and 5 - to protect in extreme temperatures.
Nanosealz - Nanosealz technology provides a surface layer of protection from the elements. It acts and feels like a normal single layer product in water weather, but once the weather turns it provides unbelievable water repellency.
Hydrostop - This unique new technology gives a much more secure fit between the top of the sock and your leg, meaning the chance of water getting in through the top of the sock is massively reduced, enabling you to go out and stay out, whatever the weather.