£ GBP
We accept PayPal and Amazon Payments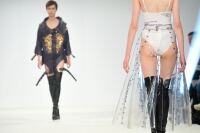 Students get first taste of world of fashion
02nd June 2015
The great and good from the world of fashion have been gathering in London for a prestigious event ...
View More News
Got a question? Get instant answers:

If you are looking to stand out from the crowd then check out our range of Silky ladies' hold ups - a practical, cooler alternative to tights. Featuring lace, fishnets and back seams, there is a pair for all tastes and styles.
1 results in Silky Hold Ups