£ GBP
We accept PayPal and Amazon Payments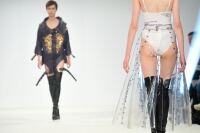 Students get first taste of world of fashion
02nd June 2015
The great and good from the world of fashion have been gathering in London for a prestigious event ...
View More News
Got a question? Get instant answers:

Silky leggings are the perfect choice if you are after something that effortlessly combines style and comfort. Whether you're wanting to update an outfit, or even build a new one, Silky ladies' leggings offer an affordable way to switch up your style, and can be paired with a smart dress or a casual t-shirt and skirt.