£ GBP
We accept PayPal and Amazon Payments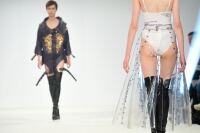 Students get first taste of world of fashion
02nd June 2015
The great and good from the world of fashion have been gathering in London for a prestigious event ...
View More News
Got a question? Get instant answers:

This selection of kids' socks from SockShop is perfect for keeping their feet comfy day in, day out. Available in a range of colours, these plain styles are ideal for both school and play. Bamboo fibre makes the socks beautifully soft - and wicks away moisture to keep their feet dry and comfortable - and handlinked toes mean less bulky toe seams. The toes are joined together by one single thread, making the seams smooth, meaning fewer tantrums and complaints about uncomfortable socks!