£ GBP
We accept PayPal and Amazon Payments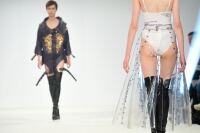 Students get first taste of world of fashion
02nd June 2015
The great and good from the world of fashion have been gathering in London for a prestigious event ...
View More News
Got a question? Get instant answers:

This lovely collection of ladies' hats, scarves and gloves from SockShop will keep you warm and stylish in winter or when the weather takes a turn for the worse.
No Products Found
Sorry, we couldn't find any products that matched your search.