£ GBP
We accept PayPal and Amazon Payments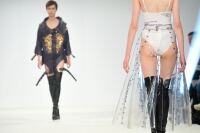 Students get first taste of world of fashion
02nd June 2015
The great and good from the world of fashion have been gathering in London for a prestigious event ...
View More News
Got a question? Get instant answers:

Our collection od SockShop Classic Nylon hosiery is one of the most popular on the site. Featuring classic tights, hold ups, stockings and knee and ankle high hosiery, save up to 20% on our selection of classic nylons.