This range of activity-specific socks from Thorlos was created with the belief that "healthy feet are a cornerstone of a healthy life" and to help improve "your health, wellness and enjoyment of life by protecting and enhancing the health and well being of your feet". Discover the benefits in this collection of Thorlos sports socks, purpose-built for a range of activities including tennis, running, mountain sports and snow sports.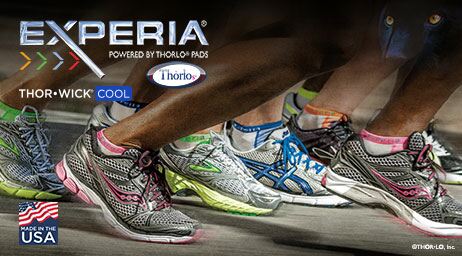 In October 2015, Thorlos founder Jim Throneburg was selected as one of three inductees into the National Sporting Goods Industry Association's (NSGA) 2016 Hall of Fame.


"We are proud to continue our tradition of recognizing striving leaders and innovators who have made outstanding contributions to the sporting goods industry," said Sporting Goods Industry Hall of Fame Committee Chairman, Cathy Pryor of Hibbett Sports. "Each of this year's three inductees truly exemplifies passion, integrity and, most of all, a dedication to the betterment of the sporting goods industry during their illustrious careers."
"When I first learned of this award, I must say that I was greatly humbled," adds Jim. "It overwhelmed me knowing the number of people who made it possible, yet they do not receive the credit. I plan to take the time to thank each one of them personally. I believe the loyalty of our employees and our customers is ultimately responsible for our success."


Of the brand, Jim Throneburg, the i
nventor and owner of Thorlos, writes:

"Over forty years ago my father and I decided we wanted to make socks that people liked so much, they would remember the name of the company that made them. That company became THOR•LO®, Inc. Today people all over the world ask for Thorlos® socks by name. We not only created a superior sock knitting technology, we became the first company to create different sock products for different activities, and today we are the undisputed leader in the world of activity specific socks.

"How do we know our sock products have that kind of impact? From actual scientific studies that have been done with our products, as well as from the thousands of letters, phone calls and emails we've received from customers all over the world.

"So let me explain a bit about just what makes our products so effective. Everyone is born with thick pads of fatty tissue on the bottoms of their feet that protect the bones, blood vessels and nerves commonly called "fat pads." It's the only fat you don't want to lose. But by the time many of us have reached the age of 40, we've lost as much as 50% of those fat pads due to the effects of walking and running. Thorlos protect the fat pads by providing exclusive, protective, cushioning fabric under the plantar (bottom) surface of the foot. The shearing force is then transferred from the foot to the sock. If your socks break down over time, you can get a new pair. But you can't replace those natural fat pads."



The Benefits of Synthetic Fabrics for Foot Health



"Many people love the look and feel, and the idea of using natural fabrics. Natural fabrics, like cotton, wool and silk, absorb moisture. And they tend to hold on to it. Saturation and collapse of the natural fibers creates an unforgiving surface that can lead to blisters, shearing and trauma to the foot. Plus, the dark, warm, moist environment becomes a breeding ground for bacteria, promoting odor and disease.

"By contrast, 100% man-made cushion fabrics, called acrylics, (or acrylic blended with natural fibers) when properly designed, will wick away moisture from the foot and transfer it to the lining of the shoe, which then transfers it to the outside environment. The man-made fabric maintains its resiliency and protective characteristics, providing a more natural, forgiving, dynamic environment for the foot, which is actually more like walking barefoot in grass or sand.

"Thorlos sock products are also created by customized machines that are required to make our exclusive "cushion fabric padding." Our knitting machines ensure that our products last longer, make the terry loops higher and more resilient, reduce shearing and impact forces, and improve the stretch and fit of the product.

"We're also experts at blending fibers. We know how to take the best of natural fibers and blend them with our superior acrylic yarns, like THOR•LON. For instance, wool is a natural fiber that is an excellent insulator - meaning it keeps you warm even when wet. But it also absorbs moisture and loses its shape and strength. We combine wool and THOR•LON to create a sock product that's perfect for cold weather activities. The wool keeps you warm, and the THOR•LON adds additional loft and resilience for sheer and impact reduction, along with superior wicking action to keep your feet dry - a winning combination!"