$ USD
We accept PayPal and Amazon Payments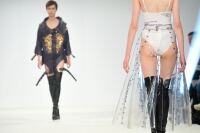 Students get first taste of world of fashion
02nd June 2015
The great and good from the world of fashion have been gathering in London for a prestigious event ...
View More News
Got a question? Get instant answers:

This range of ladies' Thorlos socks was created to help improve "your health, wellness and enjoyment of life by protecting and enhancing the health and well being of your feet". The cushioning in this selection of women's socks offers protection for your feet in sports and activities from running and walking, to tennis.