Tommy Hilfiger is one of the world's leading premium lifestyle brands, loved for its casual, cool American style. This fantastic collection of ladies' and men's Tommy Hilfiger socks includes preppy patterned socks, smart plain socks and functional sports socks.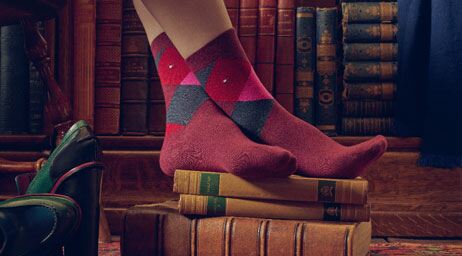 With products including apparel, denim, home furnishing, fragrances and of course socks, Tommy Hilfiger can be found in leading department and specialty stores, as well as its own Tommy Hilfiger shops worldwide. Tommy Hilfiger himself started the company in 1985 and in May 2010 VH Corp. acquired the Company, where Hilfiger remains the company's principal designer.
Born in Elmira, New York, Hilfiger's career in fashion started in 1969 when, as a fashion student determined to bring fashion from New York and London to upstate New York he opened a small chain of stores called People's Place. He then started designing for boutiques and in 1979 moved to New York City where businessman Mohan Murjani supported Hilfiger in creating his first signature collection in 1985.
Throughout the years Tommy Hilfiger has used bold marketing campaigns, sometimes including well known celebrities like Lenny Kravitz and Britney Spears, keeping the brand fresh and exciting. He has one many, many awards along the way and has become very involved with causes such as the Breast Health International, Washington, D.C. Martin Luther King Jr., National Memorial Project Foundation, Anti-Defamation League, The Fresh Air Fund and the Race to Erase MS (Multiple Sclerosis). In 1995 Hilfiger launched The Tommy Hilfiger Corporate Foundation.