We accept PayPal and Amazon Payments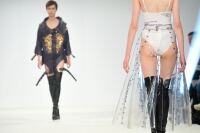 Students get first taste of world of fashion
02nd June 2015
The great and good from the world of fashion have been gathering in London for a prestigious event ...
View More News
Got a question? Get instant answers:

Looking for a pair of socks to wear while hanging out at home? Then take a look at our selection of Totes socks for men. Made with softness, warmth and comfort in mind, these slipper socks are ideal for chilling out after a long, hard day. Need a present for a loved one? You can't go wrong with Totes – especially with their ovely gift boxed styles!