£ GBP
We accept PayPal and Amazon Payments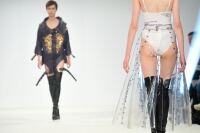 Students get first taste of world of fashion
02nd June 2015
The great and good from the world of fashion have been gathering in London for a prestigious event ...
View More News
Got a question? Get instant answers:

Trasparenze's stunning and deslicate ankle and knee high hosiery is every bit as innovative and inventive as the Italian company's celebrated stockings and tights. Trasparenze strives to find new ways to add uniqueness to their products, while making often humble ankle highs into fashion-forward hosiery that demands to be seen.