$ USD
We accept PayPal and Amazon Payments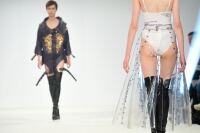 Students get first taste of world of fashion
02nd June 2015
The great and good from the world of fashion have been gathering in London for a prestigious event ...
View More News
Got a question? Get instant answers:

Urban Knit ladies' socks use traditional knitting and handcraft techniques to produce modern knitted accessories with uniquely contemporary looks. Mixing yarns including soft Italian cashmeres, angora, wool, cotton and acrylics, for a diverse range of textures, specialist stitches and styles, Urban Knit socks are fashionable, eclectic and casual, sometimes all at once!