This range of men's socks comes from clothing manufacturer Viyella. Founded in 1784 in Pleasley, England as a fabric mill, Viyella have a deeply ingrained appreciation for classic tailoring and exquisitely crafted fabrics designed to last. In 2009 the label was bought out by the Austin Reed Group, and echoes the same unrivalled craftsmanship and tailoring as found in the famous menswear label. Classic, understated and elegant without exception.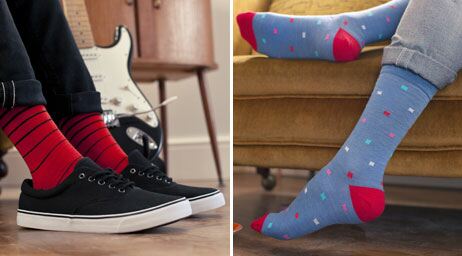 Viyella was founded as a fabric mill in Pleasley, England in 1784 by Henry Hollins Senior. In 1844, a devastating fire struck the mill, which led the company to a new state-of-the-art mill with the ability to produce garments.

In 1891 Henry Hollins Junior moved the mill to Viia Gellia Road, Derbyshire - and so the brand name Viyella was born. Viyella developed 'Viyella' - the first branded fabric in the world (55% Merino and 45% Cotton) - in 1894 and made the first steps into trading overseas.

In 1942 Viyella began manufacturing clothing and a special 'Dayella' fabric for the war effort, and in the 1950s introduced 'Clydella', the first of their iconic 80/20 wool: cotton shirting. IN 1961 Herbert CEO was awarded the Royal Warrant.

British designer Mary Quant launched the Viyella 'London Pride' range in 1976 and in 1979 Viyella was awarded the Queen's Award for Export Achievement.

In 1984, Prince Harry's Christening gown - a Viyella Layette - was commissioned.

Viyella was acquired by the Austin Reed Group and moved to Regent Street in London.