£ GBP
We accept PayPal and Amazon Payments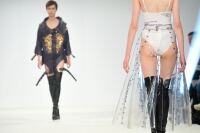 Students get first taste of world of fashion
02nd June 2015
The great and good from the world of fashion have been gathering in London for a prestigious event ...
View More News
Got a question? Get instant answers:

This X-Socks collection of ladies' technical sports socks features a range of styles, each specifically designed for particular sports and activities, including hiking, tennis and several different types of running. Choose from a range of ladies' sizes in a variety of styles - from ultra lightweight to compression, and even specially designed marathon socks for long distance running, with a huge range of technical features from anti-blister and arch support, to toe and heel protection.