£ GBP
We accept PayPal and Amazon Payments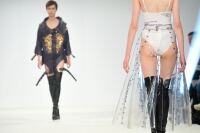 Students get first taste of world of fashion
02nd June 2015
The great and good from the world of fashion have been gathering in London for a prestigious event ...
View More News
Got a question? Get instant answers:
Kids
Accessories are incredibly important. By teaming the right accessories with your look, your outfit can go from just lovely to utterly gorgeous! Dress an outfit up or down, making it perfect for the occasion. Choose from a huge variety of accessories at SockShop from hats, scarves and gloves, to bags, purses and even fold up shoes!