£ GBP
We accept PayPal and Amazon Payments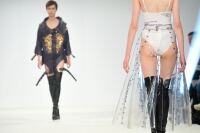 Students get first taste of world of fashion
02nd June 2015
The great and good from the world of fashion have been gathering in London for a prestigious event ...
View More News
Got a question? Get instant answers:
Snoods & Neck Warmers
Named so because they are the combination of a scarf and a hood; snoods are incredibly popular whether you're keeping warm when out for a run, or wrapping up for the cold. A snood is a loop of scarf that can be wrapped fashionably around your neck or worn over your head like a hood.
0 results in Snoods & Neck Warmers
No Products Found
Sorry, we couldn't find any products that matched your search.