£ GBP
We accept PayPal and Amazon Payments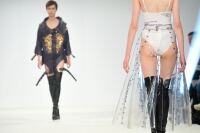 Students get first taste of world of fashion
02nd June 2015
The great and good from the world of fashion have been gathering in London for a prestigious event ...
View More News
Got a question? Get instant answers:
Men's Slippers
Our feet do a lot of hard work during the day. When you get back home, there's no better way to treat your feet than sliding them into a nice cosy pair of men's slippers for that snug feel that'll relax you whilst keeping your feet warm and protected. Slippers are an ideal friend for feet, whether you're wearing them around the house, or giving as a gift.
0 results in Men's Slippers
No Products Found
Sorry, we couldn't find any products that matched your search.