£ GBP
We accept PayPal and Amazon Payments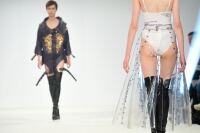 Students get first taste of world of fashion
02nd June 2015
The great and good from the world of fashion have been gathering in London for a prestigious event ...
View More News
Got a question? Get instant answers:
Men's Swimwear
Whether you love to lounge on the beach reading a good book or enjoy doing 20 laps in the pool a really good quality, comfortable pair of swimming trunks are essential. You will feel and look great in a pair of branded swimming trunks from this range.
1 results in Men's Swimwear