£ GBP
We accept PayPal and Amazon Payments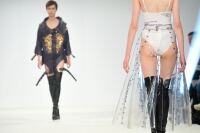 Students get first taste of world of fashion
02nd June 2015
The great and good from the world of fashion have been gathering in London for a prestigious event ...
View More News
Got a question? Get instant answers:
Kids' Basics
Everyday socks which are perfect for school or playing out, our selection of kids basics feature plain cotton and bamboo socks in a range of colours. This basics range features our special hand linked toe seam socks for those little ones who find standard toe seams rather uncomfortable.