£ GBP
We accept PayPal and Amazon Payments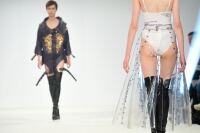 Students get first taste of world of fashion
02nd June 2015
The great and good from the world of fashion have been gathering in London for a prestigious event ...
View More News
Got a question? Get instant answers:
British Made Sheer Tights & Hosiery
Each pair of tights, stockings, hold ups, ankle highs or knee highs in this selection has been made right here in the UK by quality British brands such as Pretty Polly and Elbeo. Whether it's a nude look or a sheer evening black style, choose from a wide variety of styles and colours in this special collection.
1 results in British Made Sheer Tights & Hosiery