£ GBP
We accept PayPal and Amazon Payments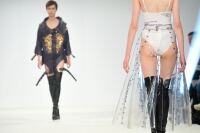 Students get first taste of world of fashion
02nd June 2015
The great and good from the world of fashion have been gathering in London for a prestigious event ...
View More News
Got a question? Get instant answers:
Orange Underwear
Wear orange underwear and bring a touch of summer to your collection of smalls! SockShop can make your tangerine dream come true with our range of undershirts, bodies, briefs and thermals, in a mix of styles, patterns and colours - including sizzling orange! Take a look at our selection of orange underwear below.