We accept PayPal and Amazon Payments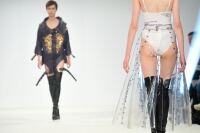 Students get first taste of world of fashion
02nd June 2015
The great and good from the world of fashion have been gathering in London for a prestigious event ...
View More News
Got a question? Get instant answers:
Yellow Accessories
Yellow accessories, whether used as a key element such as a scarf and hat combo, or added to an outfit as an accent, give a lively vibrancy and the colour is even said to lighten moods. We can't promise that, but SockShop's yellow accessories range can bring you great choice, quality and value in yellow hats, beanies, scarves, gloves and wraps. Our complete accessories collection includes bags and purses, underwear, thermal wear and active wear, wallets, belts and more items that make great gifts, or even as a treat for yourself.