£ GBP
We accept PayPal and Amazon Payments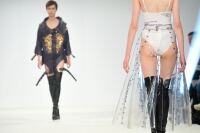 Students get first taste of world of fashion
02nd June 2015
The great and good from the world of fashion have been gathering in London for a prestigious event ...
View More News
Got a question? Get instant answers:
Christmas Stockings
It's that time of the year again! The time when you grab that box labelled 'Christmas Decorations' and start to decorate your home in all things beautifully festive. No decorated house would be complete without a stylish Christmas stocking to hang on your mantelpiece or door knob.