£ GBP
We accept PayPal and Amazon Payments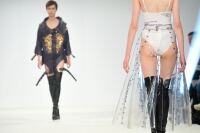 Students get first taste of world of fashion
02nd June 2015
The great and good from the world of fashion have been gathering in London for a prestigious event ...
View More News
Got a question? Get instant answers:
Kids' Sports Socks
From football to running and golf to long jump, whatever their favourite sport, get them involved and let them take part in a pair of sports socks from this kids' range. These specialist sports socks will support your kids' feet during their chosen exercise. This sporty selection includes ankle socks and trainer socks, with top brands such as Nike, Jeep and Bridgedale.