£ GBP
We accept PayPal and Amazon Payments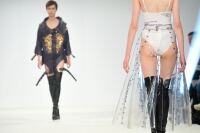 Students get first taste of world of fashion
02nd June 2015
The great and good from the world of fashion have been gathering in London for a prestigious event ...
View More News
Got a question? Get instant answers:
Men's Flight Socks
Flip flops? Check! Sun tan lotion? Check! Flight socks? We think these are a definite must for your holiday checklist. Flight socks help prevent DVT and assist in maintaining regular blood flow, cutting down the risk of blood clots. So if you're planning on travelling by plane, train, or in fact any other means, then check out our selection of men's flight socks.