£ GBP
We accept PayPal and Amazon Payments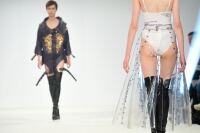 Students get first taste of world of fashion
02nd June 2015
The great and good from the world of fashion have been gathering in London for a prestigious event ...
View More News
Got a question? Get instant answers:
Men's Kilt Socks
We're pretty sure you can't get more specialised than kilt socks! But we do indeed have a number of pairs in stock, which have been produced by some highly-respected brands. Kilt socks – or kilt hose – are, as the name suggests, designed to be worn with kilts, and have been made in a certain length and style to complement the traditional Scottish dress. Take a look at our selection of kilt socks below.