£ GBP
We accept PayPal and Amazon Payments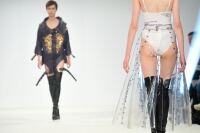 Students get first taste of world of fashion
02nd June 2015
The great and good from the world of fashion have been gathering in London for a prestigious event ...
View More News
Got a question? Get instant answers:
Men's Cricket Socks
Enjoy your game of cricket in a pair of functional cricket socks. Cricket socks have an interesting history, cricket socks are traditionally lilac. This dates back to World War 1 when in an attempt to prevent foot rot, soldiers covered their feet in antibacterial powder which subsequentially turned their socks a lilac colour. After the war, soldiers discovered that their thick army socks were ideal for cricket so began wearing these lilac coloured socks when playing.