$ USD
We accept PayPal and Amazon Payments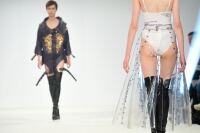 Students get first taste of world of fashion
02nd June 2015
The great and good from the world of fashion have been gathering in London for a prestigious event ...
View More News
Got a question? Get instant answers:
Ladies' Patterned Over the Knee Socks
A good pair of ladies' over the knee patterned socks can turn a plain outfit into a funky and fabulous one, and can switch up an old favourite into something entirely new. Choose the right pair and it can offer a cute, youthful style or a sophisticated decorative detail that makes the look of your whole ensemble.