£ GBP
We accept PayPal and Amazon Payments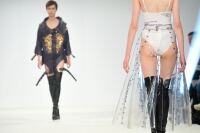 Students get first taste of world of fashion
02nd June 2015
The great and good from the world of fashion have been gathering in London for a prestigious event ...
View More News
Got a question? Get instant answers:
Kids' Offers
Putting the special in special offers, pick up a bargain in this fantastic range of kids' socks. Full of fun, this sale collection will not only put a smile on their face but on yours too. With a wide range of kids' socks and bargain kids' tights, this sale range has up to 75% off certain items.