$ USD
We accept PayPal and Amazon Payments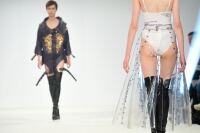 Students get first taste of world of fashion
02nd June 2015
The great and good from the world of fashion have been gathering in London for a prestigious event ...
View More News
Got a question? Get instant answers:
Flight Socks
Long haul flights or long periods of travel are some of the times when your feet and legs need extra care. Flight socks are designed to aid circulation and maintain bloodflow in the legs and feet, helping to prevent Deep Vein Thrombosis (DVT). Choose from our range of health and wellbeing flight socks if you're heading on a long journey.