$ USD
We accept PayPal and Amazon Payments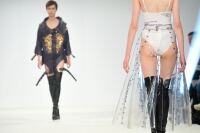 Students get first taste of world of fashion
02nd June 2015
The great and good from the world of fashion have been gathering in London for a prestigious event ...
View More News
Got a question? Get instant answers:
Maternity Tights
Calling all mothers to be! Our range of quality maternity tights gives all expectant mothers a great choice when it comes to selecting the right pair to suit your needs. We've got tights in a range of sizes that are just right for all stages of pregnancy, maximising your comfort whilst keeping you looking stylish. Our range of practical maternity tights feature breathable materials that will keep you cool as well as providing much needed support.