£ GBP
We accept PayPal and Amazon Payments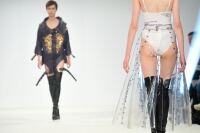 Students get first taste of world of fashion
02nd June 2015
The great and good from the world of fashion have been gathering in London for a prestigious event ...
View More News
Got a question? Get instant answers:
Bamboo Underwear
Bamboo underwear is so super soft you have to feel it to believe it. Bamboo has many natural qualities that lend themselves perfectly to underwear. At a microscopic level, bamboo fibre has a round and smooth surface meaning that it's very gentle against skin. Bamboo is 2-3 degrees cooler in warm weather and also very warm in cold weather, because its fibre micro structure is filled with various micro-gaps and micro-holes. Being 3-4 times more absorbent than cotton bamboo fibre wicks away any uncomfortable moisture from the skin.