$ USD
We accept PayPal and Amazon Payments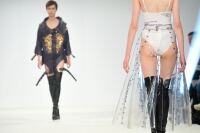 Students get first taste of world of fashion
02nd June 2015
The great and good from the world of fashion have been gathering in London for a prestigious event ...
View More News
Got a question? Get instant answers:
Rollasole
Cleverly designed to fit in your handbag, car or office desk, these Rollasole shoes neatly roll up ready for when you can't walk another step in uncomfortable high heels. Simply unroll these flat shoes and slip them onto your sore feet enjoying the instant relief.