£ GBP
We accept PayPal and Amazon Payments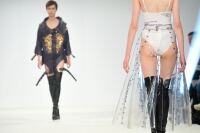 Students get first taste of world of fashion
02nd June 2015
The great and good from the world of fashion have been gathering in London for a prestigious event ...
View More News
Got a question? Get instant answers:
Sailing Gloves
Waterproof sailing gloves are an absolute must-have for any boating, sailing or seafaring activities. It's essential to keep your hands protected, dry and warm with purpose-designed sailing gloves, which help when hauling, hoisting or winding ropes, gripping winches and all other manual work in the wet. Our range of brand name boating and sailing gloves will kit you out properly.