£ GBP
We accept PayPal and Amazon Payments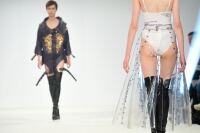 Students get first taste of world of fashion
02nd June 2015
The great and good from the world of fashion have been gathering in London for a prestigious event ...
View More News
Got a question? Get instant answers:
Wool Tights
No winter wardrobe is complete without a pair of wool tights and at SockShop we've got a wide choice for you. Our own and brand name wool tights are available in a range of colours and thicknesses, in all sizes for both girls and women. Plain and ribbed wool tights look great in layered outfits and are so flattering too.