£ GBP
We accept PayPal and Amazon Payments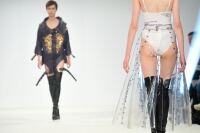 Students get first taste of world of fashion
02nd June 2015
The great and good from the world of fashion have been gathering in London for a prestigious event ...
View More News
Got a question? Get instant answers:
Bamboo Tights & Hosiery
This range of bamboo hosiery includes tights and shoe liners made from beautifully soft and natural bamboo. As well as being breathable and naturally antibacterial and hypoallergenic, bamboo wicks away moisture, keeping your feet and legs dry and comfortable. Bamboo is also 2-3 degrees cooler than cotton, keeping you cool on warm days but also very warm when it gets cold.