£ GBP
We accept PayPal and Amazon Payments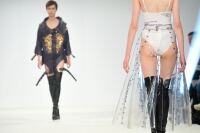 Students get first taste of world of fashion
02nd June 2015
The great and good from the world of fashion have been gathering in London for a prestigious event ...
View More News
Got a question? Get instant answers:
50 Denier Opaque Tights
Our 50 denier opaque tights offer leg-smoothing coverage, creating a more flattering overall look than lighter weaves. While still not fully solid in tone, 50 denier tights are significantly darker/deeper in colour, with matt finishes being far more flat. 50 denier plain matt finish opaque tights work particularly well when used on larger legs, giving a more flattering look.