£ GBP
We accept PayPal and Amazon Payments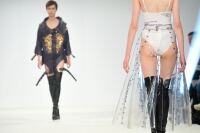 Students get first taste of world of fashion
02nd June 2015
The great and good from the world of fashion have been gathering in London for a prestigious event ...
View More News
Got a question? Get instant answers:
60 Denier Opaque Tights
Our 60 denier tights, besides offering a thicker, stronger overall weave, create a smooth, even leg tone that flatters, while some customers tell us that they often feel more confident wearing a denser opaque tight too. Of course, dense doesn't mean chunky, and 60 denier opaque tights still feel very fine to wear, in soft yarns and a range of finishes from matt to shiny.