£ GBP
We accept PayPal and Amazon Payments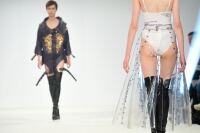 Students get first taste of world of fashion
02nd June 2015
The great and good from the world of fashion have been gathering in London for a prestigious event ...
View More News
Got a question? Get instant answers:
Bamboo Underwear
Our selection of men's and ladies' bamboo underwear includes a range of boxers, trunks, briefs and even thermal vests and long johns made from bamboo - an incredibly soft natural material with a number of qualities. Bamboo is naturally antibacterial and hypoallergenic. Micro-gaps and micro-holes in bamboo's structure make it 2-3 degrees cooler than cotton in warm weather, but also make it warmer in the cold. For the same reason, bamboo never sticks to the skin, as it is 3-4 times more absorbent than cotton, and can wick moisutre away from skin, keeping you dry and comfortable.