£ GBP
We accept PayPal and Amazon Payments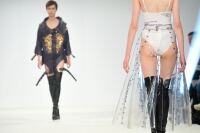 Students get first taste of world of fashion
02nd June 2015
The great and good from the world of fashion have been gathering in London for a prestigious event ...
View More News
Got a question? Get instant answers:
Ladies' Shorts
Shorts style underwear is an extremely popular style. Cut low on the leg, this sporty underwear option is loved for its comfortable fit and sexy shape. In a range of different styles, we have pulled together a collection of shorts style underwear that is varied from a number of extremely well known brands.