£ GBP
We accept PayPal and Amazon Payments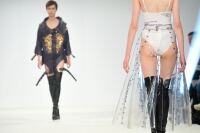 Students get first taste of world of fashion
02nd June 2015
The great and good from the world of fashion have been gathering in London for a prestigious event ...
View More News
Got a question? Get instant answers:
About Us

Customer Services

Our Sister Sites
Glossary
Cotton
Cotton is a soft and heat-resistant vegetable fibre used in garments since 3,000 B.C. Absorbs and retains moisture, and is readily washable.
Like other fibres, cotton has several family members. These include both Pima Cotton and Mercerized cotton.

In active sports socks it moves sweat away from the foot, transporting through the sock top or to shoe surfaces where it can evaporate. This is important in strenuous sports use because sweat-soaked socks become hard and matted, ultimately causing discomfort and contributing to the possibility of blistering.

Cotton is the premier fibre in socks and is preferred by many consumers as it has abrasion resistance, excellent shape-keeping resilience and above all, it is a natural fibre.

Click here to shop for pure cotton socks >
Back to glossary