£ GBP
We accept PayPal and Amazon Payments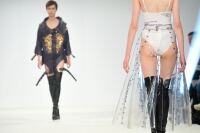 Students get first taste of world of fashion
02nd June 2015
The great and good from the world of fashion have been gathering in London for a prestigious event ...
View More News
Got a question? Get instant answers:
Isotoner SmarTouch gloves demonstration
One girl, 1 boy, 2 pairs of Isotoner SmarTouch gloves and one challenge -- who can unlock their phone and send a text the quickest? Watch to find out!

For more information and to shop these products, click here.