$ USD
We accept PayPal and Amazon Payments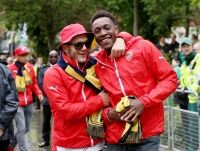 Arsenal stars showed they could party as energetically as they play football while celebrating Saturday's FA Cup final win.
One of the main men was England midfielder Jack Wilshere, seen wearing sunglasses and a novelty Arsenal hat with team-mate Danny Welbeck sporting an stylish club scarf .
They were snapped during Sunday's victory parade through the streets of Islington not long after leaving a London-based nightclub.
Wilshere was spotted departing the club at 6am before topping-up with more beers aboard the Gunners' open-top bus. He then caused controversy by singing a somewhat foul-mouthed song about rivals Tottenham.
Arsenal fans turned out in force to congratulate their players. Wojciech Szczesney, Kieran Gibbs and Mesut Ozil were all in party mood.
They were joined by players from the team they beat, Aston Villa. Young playmaker Jack Grealish was among players pictured exiting the same nightclub.
Arsenal won 4-0 with goals from Theo Walcott, Alexis Sanchez, Per Mertesacker and Olivier Giroud.
Tweet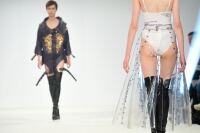 The great and good from the world of fashion have been gathering in London for a prestigious event that has just got under way.
Victoria Beckham, Claudia Schiffer and Stella McCartney are just some of the big names that have previously been involved with Graduate Fashion Week.
And a particular highlight from this year's event was the show put on by Centro Mexico university, which featured some flamboyant underwear , pictured here.
The week, which comes to an end today, gives fashion graduates and students a chance to showcase their work in front of top industry professionals.
They get a flavour for the design and creation experience and also get the chance to showcase their first catwalk collection.
The event has helped bring McCartney, Christopher Bailey and other big British designers into the limelight over its 24-year history.
Beckham, Schiffer and Alber Elbaz have all been GFW judges in the past.
This year more than 1,000 fashion students have shown off their creations at the Old Truman Brewery, East London.
News brought to you by SockShop. Go On...Treat Your Feet!
Tweet
Customer Services
Our Sister Sites
Customer Services
Our Sister Sites
© Copyright 2017 Drew Brady & Co Limited T/A SockShop